Master of Philosophy (Generic)
Entry Requirements
1. A bachelor's degree with good honours in a relevant field from UTM or any other institution of higher learning recognized by the UTM Senate; or
2. A qualification equivalent to a bachelor's degree and experience in the relevant field recognized by the UTM Senate.
Requirement for international students
Students must have a valid two-year TOEFL certificate with PBT score of 600 or above (IBT/CBT equivalent) or IELTS Band 7.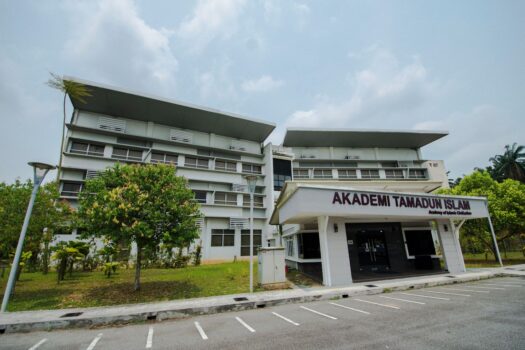 Areas of research
1. Philosophy and Islamic Thought
2. Al-Quran and Al-Hadith
3. Arabic Language and Literature
4. Islamic Education (Philosophy, Pedagogy, Curriculum, Co-curriculum, Psychology)
5. Dakwah and Leadership
6. Islamic Finance and Economics
7. Environmental Issues and Ethics
8. Islam and Social Studies
9. Islam and Gender Studies
10. Classical Text Studies
11. Islamic Art and Architecture
12. Islamic Management and Administration
13. Comparative Religion
14. Psychology in Islam
15. Islam and Political Science
16. History and Islamic Civilisation
17. Culture and Islamic Civilisation
18. Sufism and Theology
19. Islamic Law (Syariah)
20. Principles of Islamic Jurisprudence
21. Muslim Minority
Program Structure
Students are required to perform research work leading to the writing of academic thesis. The thesis must be written either in Malay, English or Arabic. Students also required to register these following courses:
Research Methodology
Philosophy of Science and Civilisation or other University's general course
Student must register the research methodology course in the first semester in order to equip themselves with the technical and methodological aspects doing a research.