AMONG THE BEST
MOU Tingkat Penguasaan Bahasa Inggeris

RM2.36 juta bantu kuasai Bahasa Inggeris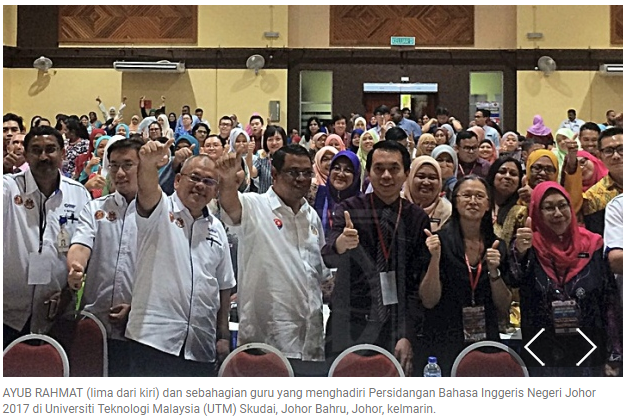 JOHOR BAHRU 24 Okt. – Kerajaan negeri menerusi Yayasan Pelajaran Johor (YPJ) membelanjakan sebanyak RM2.36 juta bagi menjalankan program-program pe­ngukuhan dan pemantapan Bahasa Inggeris dalam kalangan warga pendidik dan pelajar di negeri ini sejak 2010.
Pengerusi Jawatankuasa Pendidikan dan Penerangan, Kesihatan dan Alam Sekitar negeri, Datuk Ayub Rahmat berkata, program berkenaan membabitkan seramai 71,288 pelajar dan guru dari lebih 1,182 sekolah di seluruh negeri.
Katanya, antara program yang dijalankan termasuk Program Big Fifty yang memberi tumpuan terhadap 50 sekolah rendah dan 50 sekolah menengah yang mempunyai prestasi kurang memberangsangkan dalam mata pelajaran Bahasa Inggeris.
"Selain itu kita turut menjalankan kursus pemantapan pertuturan Bahasa Inggeris dalam kalangan guru besar dan kursus bersama-sama guru-guru Bahasa Inggeris serta program English in Camp yang membabitkan pelajar-pelajar sekolah.
"Program-program ini bertu­juan menjayakan lagi Pem­be­la­jaran Abad Ke-21 untuk me­ningkatkan mutu pengajaran dan pembelajaran Bahasa Inggeris dalam kalangan guru dan pelajar," katanya kepada pemberita selepas Persidangan Bahasa Inggeris Negeri Johor 2017 di Universiti Teknologi Malaysia (UTM) di sini semalam.
Seramai 500 guru dari seluruh negeri menghadiri persidangan tersebut yang turut dihadiri Pe­ngarah Pendidikan negeri, Shaharudin Sharif dan Timbalan Pe­ngurus Besar YPJ, Saifuddin Abd. Rahim.
Ayub berkata, menerusi usaha itu Jabatan Pendidikan Negeri Johor (JPNJ) turut menjalin kerjasama dengan pelbagai pihak termasuk UTM bagi mendapatkan kepakaran mereka melatih guru-guru Bahasa Inggeris.
Katanya, kebanyakan masalah penguasaan Bahasa Inggeris membabitkan pelajar luar bandar, justeru lebih banyak inisiatif akan dijalankan bagi meningkatkan penguasaan bahasa tersebut dalam kalangan pelajar.
Artikel Penuh: http://www.utusan.com.my/berita/wilayah/johor/rm2-36-juta-bantu-kuasai-bahasa-inggeris-1.542250#ixzz4wmfQmC4v
© Utusan Melayu (M) Bhd
Lecturer's own Japanese language syllabus a big success

JOHOR BARU: A Universiti Tekno­logi Malaysia senior lecturer's home-brewed syllabus to help his students master the Japanese language has borne fruit.
The high pass rate in the Japanese Language Proficiency Test (JLPT) has helped some of his students earn scholarships and even land jobs in Japan, and the university itself to be made a JLPT examination centre as well as a bridge for cultural exchange.
R. Kumaraguru, 51, spent two years studying and researching the test and the best approach for learning the language before implementing the syllabus in 2001.
"What takes students in other institutions 120 hours of learning to prepare for the first-level test can be done within 90 hours with my syllabus here in UTM," he said in an interview on Sunday.
Of the 60 students who take up Japanese at the campus here on average yearly, 90% are able to pass the first level of the JLPT using the syllabus, he added.
Kumaraguru said five students had also achieved the highest proficiency level in the JLPT.
He pointed out that taking up the language as an elective subject has helped his students get scholarships and jobs.
"At least 35 have received scholarships for further education in Japan and 23 more secured jobs there," he said, adding that some students were also hired by Japanese companies in Malaysia.
Thanks to the high pass rate, Kumaraguru's application for UTM to be made one of the five JLPT examination centres in Malaysia was approved by the Japanese Embassy in 2011.
"When I needed help with classes, I decided to train two students who obtained the highest proficiency level as lecturers here," he added.
Kumaraguru, who has a Masters in Comparative Linguistics from Tsukuba University in Japan, achieved another milestone when a memorandum of understanding was signed with his alma mater.
"Through the MoU, trainee teachers from that university are sent here for three weeks' training," he said, adding that two more Japanese institutions, namely Bunkyo University and Chuo University, were also collaborating with UTM.
He said the collaboration offered students a chance to communicate with and befriend Japanese people, helping in cultural exchange as well.
Read more at http://www.thestar.com.my/news/nation/2017/05/23/lecturers-own-japanese-language-syllabus-a-big-success/#pcqblgI5qbMTLcwM.99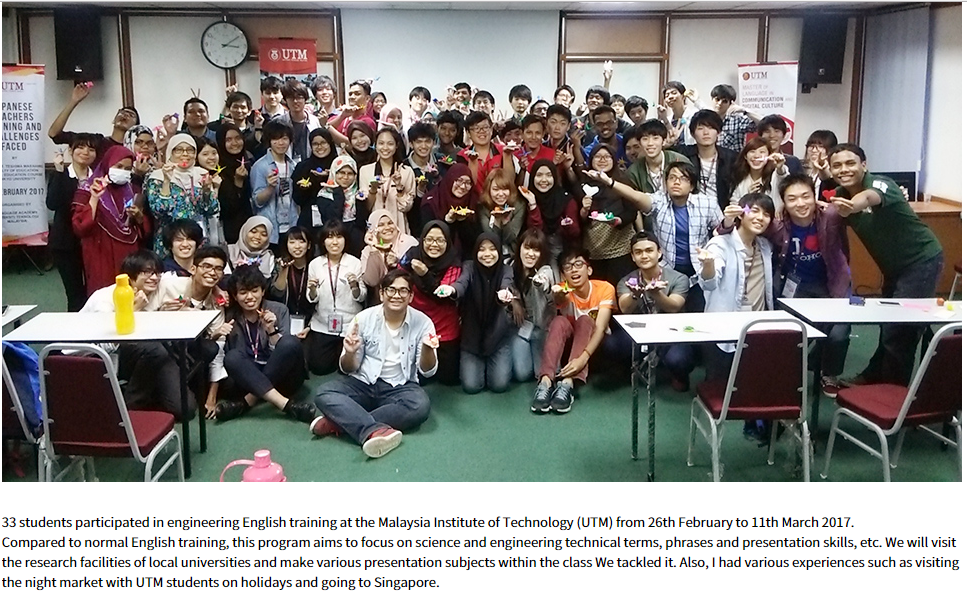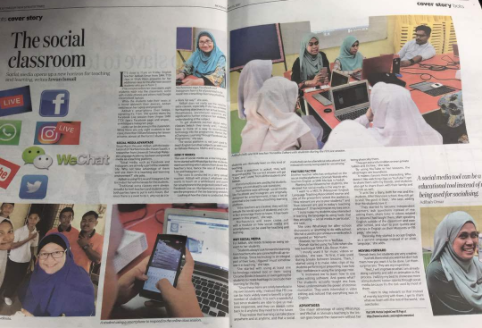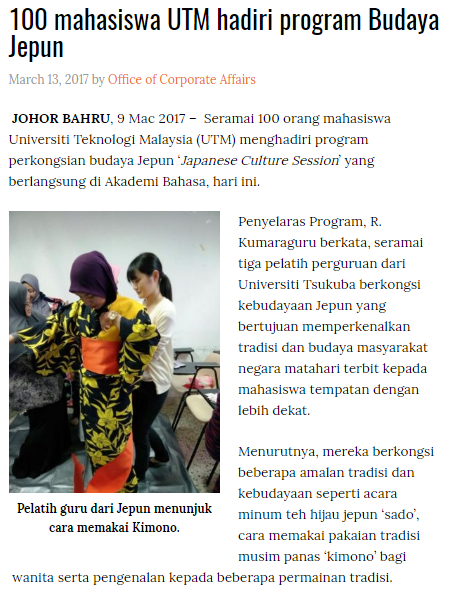 Tuesday, 27 December 2016
Cabbies learn to communicate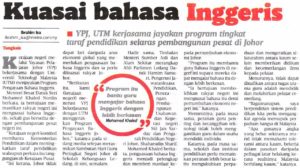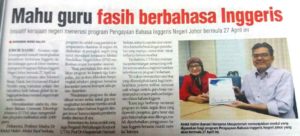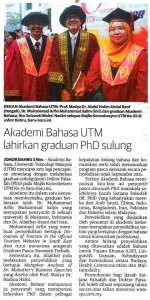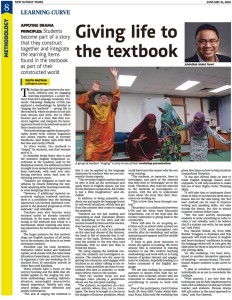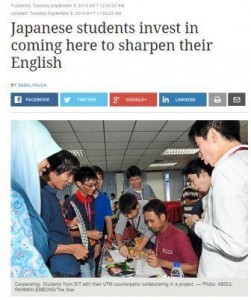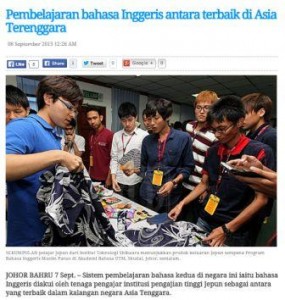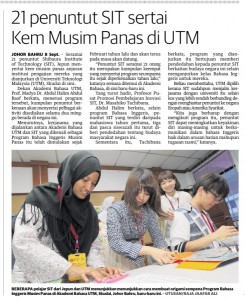 LANGUAGE ACADEMY AND 4 JAPAN UNIVERSITIES COLLABORATING

 LANGUAGE ACADEMY AND NINGXIA INTERNATIONAL LANGUAGE COLLEGE COLLABORATING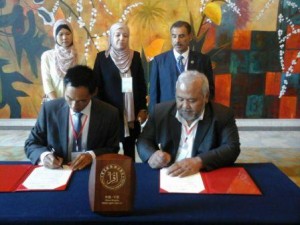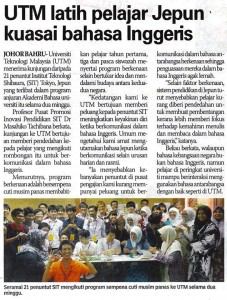 Language Academy LATEST activities HERE