For the summary of the program, click here
We are pleased to inform you that the Center of Advanced Studies in Islam,Science and Civilization(CASIS) is co-hosting a  public talk by Prof. Dr. Alparslan Acikgenc (co-hosted by CASIS and Perdana School UTM).
Details of the program are:
Date/Day: 19th June 2013 (Wednesday)
Time: 2:00pm – 4:00pm
Venue: Dewan Jumuah, UTM KL , Jalan Semarak
Title: "The Rise and Progress of Islamic Scientific Tradition"
Speaker: Prof. Dr Alparslan Acikgenc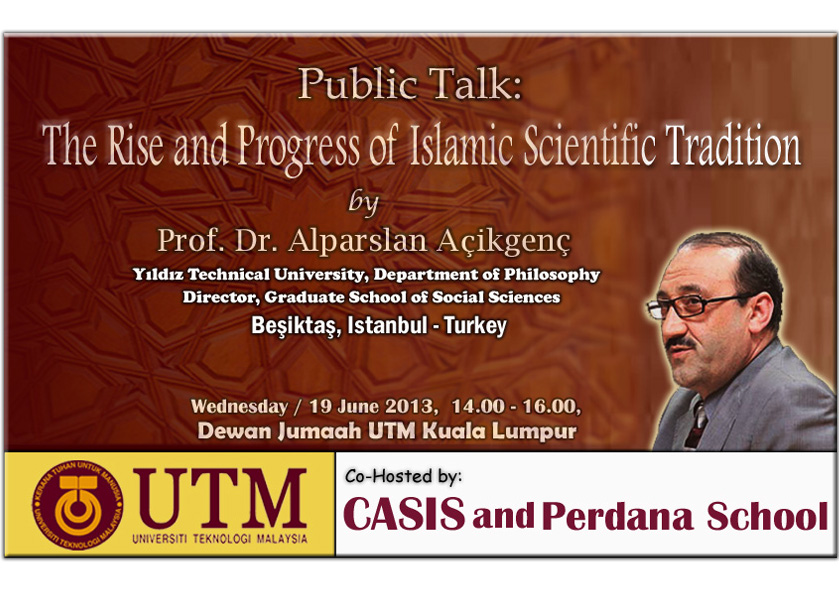 Prof. Alparslan Açikgenç
Prof Dr. Alparslan Açikgenç is a professor of philosophy at Yildiz Technical University, Istanbul. He obtained his BA at Ankara University, MA at University of Wisconsin-Miilwaukee, and his Ph.D. at the University of Chicago supervised by the late Professor Fazlur Rahman. From 1992-1998, he served as professor of philosophy at the International Institute of Islamic Thought and Civilization(ISTAC), Kuala Lumpur, Malaysia. He joined Yildiz Technical University in 2010 where he still serves as the Director of Graduate School of Social Sciences. Professor Açikgenç published more than 100 articles in various journals on comparative philosophy, philosophy of science, sociology of science, Islamic epistemology, and educational philosophy. Among his important works are Islamic Scientific Tradition in History (Kuala Lumpur: IKIM, 2012); Islam Medeniytinde Bilgi ve Bilim [Knowledge and Science in Islamic Civilization] (Istanbul: Islam Arastirmalari Merkezi, 2007); Scientific Thought and Its Burdens: An Essay in the History of Philosophy and Science (Istanbul: Fatih University Publications, 2000); Islamic Science: Towards A Definition (International Institute of Islamic Thought and Civilization, 1996); Being and Existence in Sadra and Heidegger (International Institute of Islamic Thought and Civilization, 1993); Bilgi Felsefesi [Philosophy of Knowledge](Insan Yayinlari, 1992, 2002, 2005). He is currently working on a comprehensive world history book from the Islamic perspective.