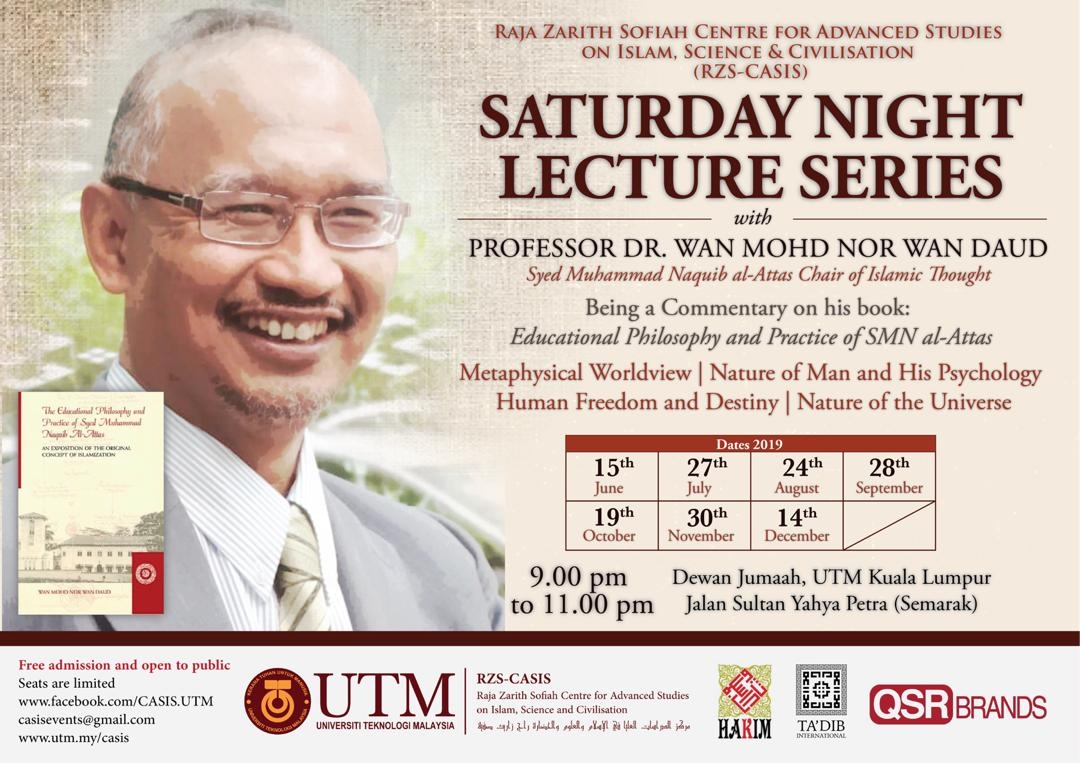 This series of public lecture–from June to December 2019–will be Prof. Dr Wan Mohd Nor Wan Daud's first as the Inaugural Holder of the Syed Muhammad Naquib al-Attas Chair of Islamic Thought at RZS-CASIS. Drawing from the Holy Qur'an, Hadith, and insights of Muslim luminaries, Prof. Wan will discuss matters on the importance and implications of metaphysical worldview, the nature of man and his psychology, human freedom and destiny, and nature of the universe–all practical and pertinent issues for the Muslim consciousness in the 21st century. Open to all.
These series of lectures are organized by the Raja Zarith Sofiah Centre for Advanced Studies on Islam, Science, and Civilization (RZS-CASIS) , which is a centre of excellence at the University Teknologi Malaysia (UTM) in collaboration with Yayasan Ta'dib Foundation and Himpunan Keilmuan Muslim (HAKIM). RZS-CASIS aims to promote post-graduate scholarship and learning for the advancement of knowledge in the fields of study relating to Islam, science, and civilization and their allied sciences under the ambit of the worldview of Islam, in full cognizance of relevant developments in other civilizations especially in the contemporary world.
This particular 9th Series will revolve around the topic of the: METAPHYSICAL WORLDVIEW , THE NATURE OF MAN AND HIS PSYCHOLOGY, HUMAN FREEDOM AND DESTINY and NATURE OF THE UNIVERSE.
The CSNL is a program that is open to academics, students, professionals and members of the public alike as we believe in developing a community that practices knowledge culture that holds strong to the right action (adab), values, and virtues based on knowledge and the concept of wasatiyyah that will strengthen the brotherhood, producing a harmonious and united community
SEATS ARE LIMITED TO ONLY 180-200 PEOPLE!
ADMISSIONS ARE FREE, but donations are always welcomed. https://humanities.utm.my/casis/casisendowmentfund/
Duration:
9.00pm-11.0pm (2 hours)
Once a month June until December 2019
1. 15th June 2019
2. 27th July 2019
3. 24th August 2019
4. 28th September 2019
5. 19th October 2019
6. 30th November 2019
7. 14th December 2019